Holiday Shop closed dates - PLEASE READ!
2018 Holiday Shop Hours AND January Closed Dates
We will be closed the following dates for the 2018 Holiday Season
Thanksgiving - Nov. 22nd & 23rd
Christmas - Dec. 24th & 25th
JANUARY CLOSED DATES - PLEASE READ!
Our annual company wide vacation and required end of year inventory have been scheduled.
Our shop will close on Jan. 3rd until Jan. 18th
You can still place your order online during our closure but no orders will be processed or shipped until Jan. 21st
Deadline dates:
Thurs. Dec. 27th - Last day to place orders with Embroidered Sashes to ship by Jan. 2nd
Mon. Dec. 31st - Last day to place order to ship on Weds. Jan 2nd
Weds. Jan 2nd. - Last ship day. All orders placed by Dec. 31st will ship on Jan. 2nd
Thurs. Jan 3rd - shop closed to prepare for inventory.
Sat. Jan 19th - shop reopens with orders being processed
Mon. Jan 21st - ALL orders will ship.
(Orders placed after Dec. 27th with embroidered sashes will ship on Fri. 1/25)**
We apologize for any inconvenience our closure may cause. We are required to do an end of year inventory by the IRS. We can not move, touch or construct any products during inventory week.
Our employees work hard all year getting orders out in a timely manner, traveling to seminars and trade shows and attending continuous education classes through out the year.
We feel vacation time is vital to not only the smooth running of our shop but more importantly, the health and happiness of all employees and their families.
To avoid unnecessary delays in order processing through out the year, all employees take their vacation at the same time, the week after inventory.
Thank you for understanding and here is a COUPON for orders placed while we are closed!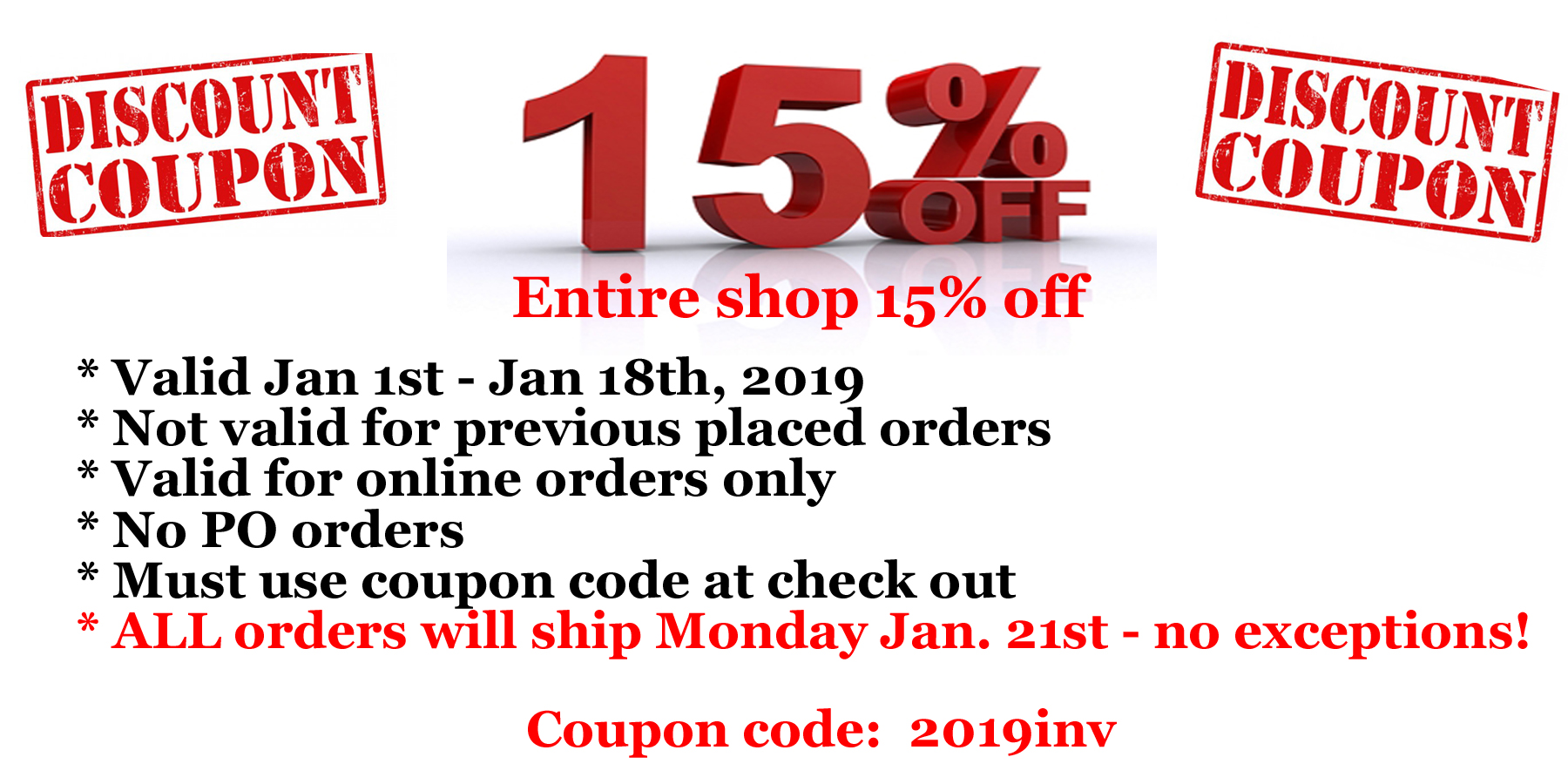 ** Embroidered sashes require a minimum of 5 days production time. Any orders which include embroidered sashes placed after Dec. 27th will be shipped on Friday Jan. 25th